Strong partnerships and collaboration are key driving factors behind great innovation and economic growth. Established in 2015, the Sheffield Universities' Managing Directors' Club (MD Club) provides a forum for regional business leaders and key academics to share knowledge and ideas to further productive partnerships.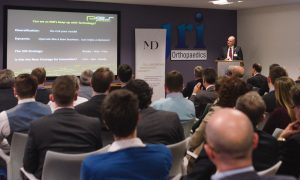 Showcasing innovative and forward-thinking speakers alongside best-practice collaboration case studies from other industry members, members have had the opportunity to hear from global leaders such as Siemens through to the mastermind behind the iconic brand of Lara Croft:Tomb Raider. The MD Club's success lies in enabling regular, ongoing interactions between members, developing familiarity and trust between two different sectors where partnerships and collaboration can bring significant benefits.
One such example is longstanding MD Club member, PES Performance, as their Managing Director Mike Maddock explains: "We have found the MD Club to be an excellent forum to meet like-minded individuals, network, strengthen existing links and make new contacts."
"It is particularly good at creating an ideal atmosphere where business and academia can exchange ideas and discuss potential R&D opportunities in a relaxed and collaborative environment. A spirit of creativity and collaboration is often inspired by the thoughts of innovative, progressive keynote speakers at the events, with the topics being driven by the MD Club members."
The MD Club not only facilitates businesses to meet potential university partners but also provides guidance on the different schemes and funding available. As a result, many businesses have actively worked on projects with both universities through Knowledge Transfer Partnerships (KTPs), placement schemes or other research collaborations.
PES Performance is a prime example of how collaborative working can bring benefits. They operate at the 'front end' of design engineering, innovation and research and work closely with research teams, and with business partners, both in Sheffield and further afield.
Mike Maddock adds: "We are currently working on a research project in collaboration with the University of Sheffield's Advanced Manufacturing Research Centre (AMRC) team and local partner, Tinsley Bridge. They are another MD Club member and a Sheffield-based SME that is one of the world's leading suppliers of anti-roll bars for large vehicles."
This project is now in its second stage of Innovate UK funding, and looks to develop unique, high performance, metal and composite hybrid anti-roll bars with a heavy focus on bonding research and testing.
This technology will allow Tinsley and PES Performance to take a lead for this area of rail and commercial vehicle sectors, as well as potential cross pollination opportunities into other sectors, including aerospace.
The original aim was to develop lightweight anti-roll bars, to establish Tinsley Bridge as a lead in their sector with new and innovative solutions addressing weight optimisation, performance, fuel consumption and emissions from rail and heavy road vehicles, whilst also improving their reliability.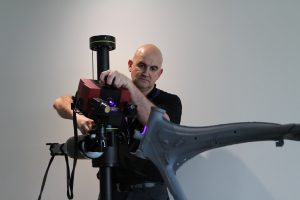 Also, as part of the quality inspection process during the testing and fabrication, PES Performance 3D optically scanned the manufactured parts to check any geometrical non-conformances.
Through the AMRC's Composite Centre, PES Performance and Tinsley Bridge were able to access specialised skills and equipment, producing the anti-roll bar prototypes using its MF Tech filament winding system. This is a technique in which filaments of glass or carbon impregnated with resin are wound onto a rotating mandrel to form a desired shape. The AMRC also used its CT scanner capability to inspect the inside of the bar, checking its structural integrity and verifying the build quality.
This project has been a great example of a working partnership, bringing together the knowledge and expertise of SMEs like Tinsley Bridge and PES Performance, plus working in conjunction with the world-renowned research team at the University of Sheffield's AMRC.
Mike concludes: "The success of the MD Club, is to a great extent, down to the University of Sheffield and Sheffield Hallam University working to bring business and education together for mutual benefit and providing the forum for collaborations to develop and flourish."